Pat Dunn, Bryan's Father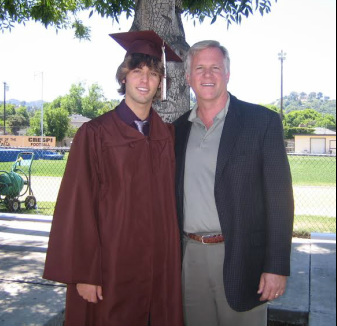 Bryan Dunn-My Beautiful Boy

It has taken me more than a year to write about my beautiful son Bryan. Every time I've tried I'd break down and just could not finish. I want everyone who reads this to understand that your children are your most precious experience in life. When your first child is born, life as you know it changes. You go from a person who has thought about himself to one who can't imagine his or her life without this little guy. You will do anything to help this child through his life.

Bryan Dunn was my oldest son. He was my inspiration and joy since the day that he was born. He was a beautiful boy who laughed, smiled and enjoyed every minute of life as a child. He grew up with his brothers Casey, Blake and Nick in Los Angeles. He excelled at school but he was also a tremendous athlete. With his easy smile and quiet confidence he could do anything.

When our children are born we wish the very best for them. We hope that they will grow and develop into someone that they'd be proud to be. We hope that they will be well educated, be the star athlete, or be anything that they want to be. We hope that they will have lots of friends. We hope that their life will bring them nothing but happiness. That is what I always wanted for Bry, just to be happy.

In Bryan's case everything changed when he was 14. As his parents we started to see changes but we just thought that he was going through adolescence and it was just a phase. He started to withdraw and play video games endlessly. We thought he'd grow out of it. Like many parents we were not aware of the signs of depression. We didn't know that he was smoking pot, but the sad reality is we should have known earlier. Bryan continued to do well in school, but he quit playing baseball which should have been another sign. He told me that he just didn't enjoy it anymore and wanted to pursue other endeavors. I didn't do enough and never realized the true pain he was feeling. He was good at hiding it.

I wasn't aware that depression was the real cause of his pain and that Bryan was self-medicating to ease that pain. After a while pot was not enough and he started doing stronger drugs which eventually caused addiction to Oxycotin and ultimately heroin. How could this perfect child have become a drug addict? How did the confidence that was always there as a child disappear? Depression and drug addiction can go undetected because parents don't know the signs. We didn't because he was a star in every way. I didn't know that inside he was afraid and lonely. Once we realized the problem, addiction had already set in.

We spent the past eight years of his life fighting to get our son back. Numerous drug rehabs, relapses, and battles for sobriety are what Bryan endured. It was painful for his entire family to see such a promising young man ravaged by drugs. Bryan tried many times to get sober but he couldn't maintain his sobriety. It is an insidious disease that can affect anyone and Bryan was no exception. Two years ago Bryan did get sober. He gathered every ounce of courage he could muster and he stopped doing drugs. He worked out at the gym, developed new friends and appeared to have finally overcome the disease. He went back to school and wanted a future in computer science. He worked at my office and he became an intregral part of the firm. His whole family had hope. I had hope and I saw the young man who was my son return. I was so happy to see him healthy. I hugged him every day and told him I loved him.

But the disease is stronger than some people's capacity to avoid it.

Bryan had a difficult time during the Holidays last year. He was involved in a break up with a girl. He was lonely. The problem with depression is that a person can go down in an instant. The world can seem overwhelming. Bryan made a fateful decision to go back to drugs for a temporary relief of the pain. He died on January 2, 2014 of a heroin overdose.

I loved Bryan for the beautiful, caring boy that he always was. I miss him every day. I miss his smile and gentle soul. His whole family misses him. Our family is trying desperately to accept he is gone. The pain is almost too much at times. As we have gathered to care for one another over the past year, we decided to create a non-profit organization to educate others about depression and drug addiction before it is too late for other children. It just seemed like a fitting way to honor Bryan's memory and to help us heal, although life will never be the same without him. We hope we can help someone who sees Bryan's Smile.com and can realize that their life is too important and that many people care about them.

If you are an addict, please know that there are people who love you and will do anything to help you. You are not alone and you need to never give up hope. If you are a parent of a child with this disease, be aware and know the signs and get help as early as you can. Be strong and don't think that it can't happen to your child because that is what I thought. Do whatever it takes when they are young to get the help that they need. From my perspective it is always better to act much earlier even if you are not sure than to wait until the addiction happens.

Bryan will always be with me. He lives in my heart. I miss him every day and so wish he were still here. I know that Bryan is safe and happy as he looks down on his family and watches out for us. I love you my beautiful boy and I'll see you again.

Pat
Your Loving Dad


---
George Maranon, Bryan's Step-Father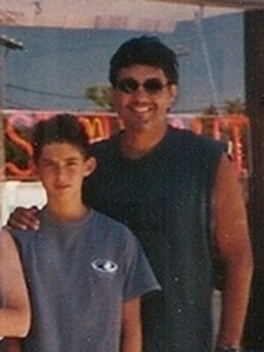 ​
I am Bryan Dunn's step-dad, George Maranon. Bry died on January 2, 2014 at the age of 26.
I love him and miss him so very much.
About the time this picture was taken, Bryan wrote "the thing I like best about myself is that everybody likes me."
Since his death, I have been looking back on what could have been done to prevent him from dying in a senseless accidental drug related death. Not recognizing the clues early enough was the most important. Much of the conversation the last couple of weeks has been about Phillip Seymour Hoffman. Mr. Hoffman's tragic death has raised public awareness about drug addiction and accidental death from a drug overdose. Sadly, the attention span of the public is short. I write this for parents, families and friends who don't think this can happen.
The future by definition is uncertain. It must be so hard being a child, teenager or young adult today. Growing up has always been difficult, but now even more so. This is evidenced by the fact that there are so many children, teens and young adults who are dealing with or who are being treated for depression at younger and younger ages. Why is it so hard? As much as it takes a village, the village can make growing up extremely difficult. The value of human relationships and love is under assault. Divorce is easier and more about making parents happy rather than concern about children. Changing family dynamics and divorce have significantly changed how children grow up and view relationships. Stable home lives become "custody" agreements. More and more children lack a mother and father as they have been replaced by a "baby mama" and "baby daddy". Some children are seen as a commodity and the importance of a stable family is minimized.
Furthermore, celebrity is admired rather than character. Those with celebrity live by different rules and society applauds this. This includes the glamorization of drug use. Relationships are viewed as photo-ops and not a pledge. Commitment to someone is no longer seen as something to be counted on but fleeting. Narcissism is the rule of the day. As a result, "values to live by" are at best situational or non-existent. Character and ethics are viewed as obstacles. Advancement at all costs, including human collateral damage, has created a society that is progressively more cut-throat and impersonal. Human interaction has been reduced to 140 characters or less. Video games allow people to create avatars, alter egos or personalities, that hide who they are from one another and themselves.
This is the world that Bryan was growing up in, but the world was not responsible for his death. It just made his life harder and more confusing. Bryan was lucky. He had a mother, father, step-mother, step-father and brothers who all loved and supported him. Even his family, his intellect, his talents and his charm could not keep him from loneliness and depression. Because he was susceptible to depression, he lost the joy of life, his goals and his aspirations. Bryan became someone who didn't recognize himself and who couldn't see that "everybody likes" him. The demon of self-medicating and drug use became his way of dealing with his emptiness, but drug use was only a symptom. Bryan's grandmother used to sadly
say that Bryan was a "lost soul". To paraphrase Dr. Wayne Dyer, Bryan didn't realize that he was really a soul with a body not a body with a soul. He didn't understand that it was his soul that held his love and his potential. "That" Bry never would have expected that more than 500 people would attend his memorial. He could not imagine that thousands would be reached and touched through the Bryan's Smile Facebook page and the
www.BryansSmile.com
website and foundation. The sad thing was that Bry was well on his way to finding those things out and learning to deal with the circumstances of life, drug free, when his life was cut short.
For me, Bryan's Smile has the following goals. First, Bryan's Smile is a source of hope. Next, Bryan's Smile reminds parents and families of the significance of constantly telling their children how important they are, to make them feel safe in this world and let them know how much they are loved. Third, it reminds us all to give children the tools and teach them to cope with the challenges and confusion of growing up in today's world. Fourth, Bryan's Smile tries to teach others to recognize the "early" signs of depression and loneliness like changes in behavior that can't be explained. Fifth, Bryan's Smile calls on all of us to get help for at risk children, teens and young adults before they start self-medicating. Lastly, Bryan's Smile asks all of us to pray for God's grace, that Bryan will never be forgotten and that his death saves at least one life.
---
Melanie Gullett, Bryan's Mother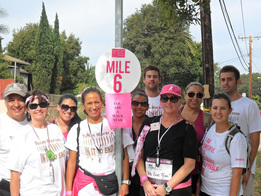 March 18, 1987. Bryan is born. I become a mom!!! He becomes my life, my joy, my purpose, my future. Being the mom of an addict was something that I never would have expected to become. It is something that I pray never happens to anyone but it happens every day. Having my son die from his addiction is the worst thing that can ever happen. Others' sons and daughters die everyday from addiction also. I am glad to see that we are looking for a way to help cure addiction instead of hiding it and being embarrassed by it as we did. Addiction is a disease. As doctors, we should have known what to do. But we didnt. No one does really. Some things work and many things dont. The addict needs to be willing but the addict is sick. My addict did things that my son would never do. My addict and my son were two different people in the same body with the same brain that led him to an accidental overdose. It has been almost 4 months. I have read a number of books about losing a child and grief. I have read tons about addiction and still am in a place that is numbing due to losing Bryan. It doesnt matter how I lost him when it comes to grieving. It hurts the same. I miss him yet I feel him right here with me all the time. I see him laying there on the day he died yet I felt his warmth and comfort while I hugged him. I smile and brag and talk about him alot. It is okay to do that with us. We want to hear about him and his stories. We want to know that others loved him also. I also talk about how he died and am trying to spread the word about addiction and share my experiences. Many things I would have done differently. Like hijacked him and taken him to God knows where away from all his bad influences but that would not have guaranteed that he would still be here. God had kept Bry alive for us a lot longer than he could have. It was scarey for us for many years. We always were afraid of "that call" saying he had been found dead. He told us he was sober. He lied. Being sober takes a long time. What we didnt realize is that he couldnt just say, "I want to be sober" and stay that way. I gave him the name of someone to talk to about how he was feeling and his depression. He kept saying he would call. I was going to take him myself after the first of the year although they say that is enabling. To me it was helping my son do something he wanted to do but could not seem to do. However, it was too late. I learned from that. If an addict asks for help but cant seem to do it, jump and help get it done right then and there. I learned alot from Bryan about addiciton but although the stories all seem similar, I dont know if my knowledge would help anyone else. But I am willing to try to help. I am sharing some smiling stories of Bry below. I have many and I hope to add more as time passes. For now, I will continue to smile, cry, grieve, laugh and talk about Bryan my son.

Memories and Stories about my son Bryan

February 4, 2014 In honor of World Cancer Day

Bryan joined Team Maranon in September 2012 to walk the 39 mile Avon Walk in Santa Barbara in honor of his mom and his stepmom both being breast cancer survivors.

Typical Bryan fashion: Mom- "Bry, you need to walk long distances to prepare for this, you know." Bry- "I am working out and I can do it!" Reality.... severe leg cramps at mile 13, he stopped, went home and got a massage. That's our Bry!


Written by his mom- 1/30/14: This story happened only a few years ago.
Geo and I took Bry and my mom to the mall to eat and then see a movie. While we were waiting on our table for dinner, Bryan (who never has any money) says that he will be right back. We figure he is going out for a smoke (one thing we did not like) but since the wait was sort of long, I decided to go buy the movie tickets at the theatre. As I walk past the kiosk where they do those $1 per minute massages while you sit, I see my son's back in one of the chairs. I just start laughing as I go to his hidden face and whisper, "Hey, Bry. No money, huh?". He just smiled and enjoyed the rest of his massage. I sure wish I was able to learn from him instead of always trying to teach him something.



---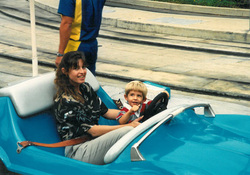 Another one that makes me smile:

Bryan accompanied me to take my mom, his grandma, to the airport after one of her stays with us. Bryan would always ask when she was coming back saying that it is always better when she is here. Even tho he didn't see her on a daily basis, the comfort of a grandmother is a good thing. On this particular outing, I had reminded him to wear his seat belt on the way there, which he eventually complied with because his grandmother was with us. Always a struggle of power between protective mom and rebellious son, after dropping her off, I chose not to mention the seatbelt again. Of course he did not buckle up. So as we were approaching the freeway on ramp, I saw a police car start their lights and pull behind us. I knew immediately what was about to take place as I was not speeding. The officer approached the passenger door and Bryan rolled his window down. Of course, once he saw the lights, he also knew what was going to happen and quickly put his belt on. Too late. As an adult and having a driver's license, HE got the ticket for not wearing his seat belt. I did not say a word. But I smiled to myself all the way home.


---
Casey Dunn, Bryan's Brother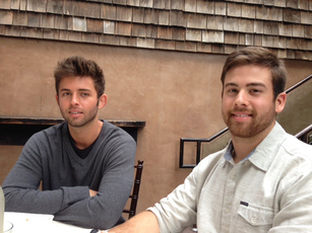 Unbeknownst to his family (including me), my brother suffered from depression from the time that he was 12 years old until the day that he died at 26 years of age. Throughout that period of time he learned how to self-medicate himself to alleviate the pain and eventually he became addicted to drugs. Sometimes he would appear completely happy and normal so identifying depression and/or drug addiction can be very difficult if you don't have constant contact with them and haven't seen it before. Once the drug addiction was identified we did everything we could to treat the substance abuse including rehab centers, sober living, and keeping a close eye on him. The problem was that his depression, the root of his issues, had not been fully addressed and focused on.

I wasn't always there for him through his difficult times because of school and/or work, but at the same time I would always have him on my mind. I was never one to put up with his drug use or laziness about his involvement in our family and he knew it. I told him many times and unleashed my anger resulting in broken doors, walls, and tables and even hit him a few times. He knows how much I love and care about him, but being vocal and physically being there and present with them is very important.

Over time he turned his life around and I was so happy and proud to see how well he was doing. He was staying sober, enrolled in classes to get his B.S. in Computer Science, working full time in our Dad's accounting office, working out at the gym 5-6 times a week, and actively participating in our family. Then after two years he had an emotional couple of days that would depress even the happiest of people and relapsed. I am completely heartbroken about losing my big brother, but I want to make sure that other people understand and can do everything in their power to prevent it from happening to someone that they care about. Live every day like it could be your last and express your love to the world because there are too many people that need it.
---